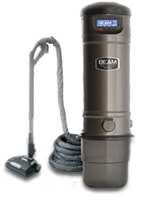 Only Beam central vacuums are clinically proven to deliver allergy relief!
Specifically designed tubing installed in the walls of your home gives your home the convenience of a central vacuum system. When you clean with your Beam the dirt, dust and allergens are carried away from living areas to the central power unit and collection canister located in the utility room, garage or basement.
To activate the system, simply plug the lightweight hose into the wall inlet, an average home has three inlets, flip the switch on the hose handle and start cleaning and improving the indoor air quality of your home with powerful performance.
With a Beam central vacuum system, you can clean your home and improve indoor air quality at the same time! A study at the University of California at Davis has shown that a Beam system provides relief from major allergy symptoms…as much as 61%!
Up to five times more powerful than uprights for thorough whole-house cleaning.
Removes 100% of dirt, dust and allergens vacuumed from living areas.
Clinically proven allergy relief
Installs in new or existing homes
90-day money-back guarantee
Limited lifetime warranty
NEW! Retractable Electric Hose Systems: Doc IT
Eliminate the number one complaint about central vacuum systems, the hose! A1 is proud to present Doc IT from Cana-Vac, the ONLY electric hose docking station on the market. A Doc IT system takes care of the hose by storing a 45 or 55 foot hose neatly inside a standard household wall cavity thus eliminating the need for storing the hose in a closet or the tedious task of trying to coil the hose manually. With Doc IT you have the ability to feed out or retract as much hose as needed! No more tripping over excess hose, simply push the "up" or "down" arrow to extend or retract the hose automatically.
Doc IT can be installed in new or existing homes. Simply call or request a quote online.
Warranty Center
We are an authorized warranty repair center for all major brands of central vacuums. Give us a call!